HIGH POWER INFLATOR ACCESSORY
Model: #GDM800 | Home Depot Sku #: 1002225370
Get more out of your garage with the RYOBI Garage Door Opener System. Introducing the High Power Inflator Accessory. This unit is compatible with the RYOBI Ultra-Quiet Garage Door Openers. The inflator has up to 145 PSI and a 25 ft. hose so it is designed to quickly inflate car and bike tires of all sizes. The display gauge makes it easy to accurately measure how much air pressure is in your tire. Get more control by downloading the RYOBI Garage Door Opener App.
---
Product Videos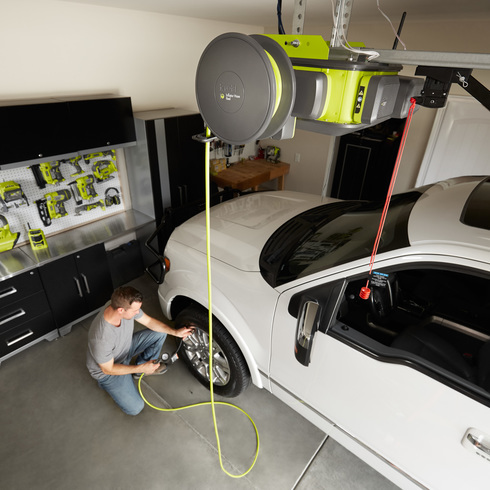 Features
High performing inflator with up to 145 psi
Display gauge for monitoring tire pressure in real time
Ergonomic handle for added comfort
Clip on nozzle for ease of use
25 ft. auto-retracting hose to reach any spot effortlessly
Easy installation, simply attach to your RYOBI garage door opener
Download the RYOBI garage door app for personalized settings
145 PSI
Tool Weight: 7.5 lbs
Hose Length: 25 ft.
Inflator Module - Model gdm800
GDM800_875_trilingual.pdf
Published: 02-13-2018
Filesize: 3.51 MB
GDM800_875_r.pdf
Published: 12-27-2016
Filesize: 375 KB
Click the link below to access power tool replacement parts schematics and order parts online.
For those customers that prefer ordering by phone, simply contact the Ryobi master parts distributor at toll free 1-877-545-4099, and place your order over the phone.
---
---
Register an Account
---
Email Preferences
We may occasionally communicate with you:
* Fields are required
×